Advance peaks of "Tales of a Road Dog"
EARLY REVIEWS -
"Wow, Ron Levy's book is amazing! Wonderful reading, entertaining, fun, educational and , well, amazing!" - Norman Darwen - Blues Matters! - UK
"Ron Levy endures as an ingenious blues keyboardist -- touring most notably with B.B. King for 7 years -- and he was there when B.B. played Muhammad Ali's private parties, as well as stadium shows in Africa and throughout the world. He was the ultimate road warrior, also tickling the ivories for Albert King, Roomful of Blues and his own Ron Levy's Wild Kingdom, while meeting everyone from Elvis Presley to Nina Simone. He distills it all in this lively, remarkably honest web book, 'Tales of a Road Dog,' filled with more than 1,500 photos and 250-plus video links. It's a unique way to present himself and nearly everything is unique in these gritty stories of survival with some of music's great pioneers and the musicians who powered them on stage. If you thought you knew about music history, trust me that you'll know even more when you delve into Levy's rich and colorful text. This guy can write as well as he can play." - STEVE MORSE, a former longtime staff critic at the Boston Globe who has also contributed to Billboard and Rolling Stone and now teaches an online course in Rock History at Berklee College of Music
"Great writing, so funny, and touching...very sweet words for us down here...I love it...so colorfully told..." - Hammond Scott, founder of Blacktop Records
"Wish you'd been on the bus with Albert King? At the Rumble In The Jungle with B.B. King? Or in the studio with some of the most influential figures in blues, jazz and funk in the last 40 years? Ron Levy was there and he's telling the stories from the back of the bus.
Tales of a Road Dog is a wonderfully witty and insightful romp through the musical life of one of the most impressive sidemen, producers and label owners of the last 40 yrs. A take no prisoners tale of life on the bandstand, in the studio and on the road.
Chock full of unreleased pictures and the songs they were playing, this is a must read for anyone who ever wondered what it was like to actually be there." - Shaun Bindley, "Blues With A Feeling", 98.9FM Brisbane, Australia
"The only way you learn these kinds of notes, is if you have worked and played with the best and Ron Levy has...for a real dive into the world of low down, dirty, butt rockin' Blues...you need to devour this book. Your 'Greazy' hands won't want to put it down...guaranteed! - "Famous Dave" Anderson, Famous Dave's BBQ & Blues
"This is an important first hand account of the global Blues world from a person who was there in the beginning. Levy's personal memories of the Black artists who first turned white audiences on to their music is mesmerizing and a must-read for every Blues musician and fan alike." - A.J. Watchel, Blues Blast Magazine, Blues-E-News, the Boston Blues Society and The Noise.
"Taken merely as a book, Ron Levy's "Tales Of A Road Dog" is an enjoyable and enlightening read. Levy draws upon his wealth of experience since he was an under-aged legal ward of Albert King and then a fixture in B.B. King's early '70s orchestra, as a member and leader of sometimes legendary blues bands and as a producer, and provides major insights into the people and the life. He does it in a kind way, celebrating the humanity but not dishing dirt or spite and generating a lot of both "Aha! Moments" and laughs. But "Tales Of A Road Dog" isn't just a book; it's a web-book, full of hyperlinks to music (including videos) and photos which enhance and reinforce the experience considerably. Thanks to Mr. Levy (the inventor) for adding an up-to-date way to savor a timeless music and the people who have made it what it was and is."- Dick Shurman, Blues producer and historian
"As a 37 year professional in the music industry (& a life long fan of Blues/Soul/R&B), I've read many accounts of the musician's life. Well, I've got to tell you: master musician/arranger/sideman/composer/producer Ron Levy has written one that stands heads & shoulders above 98% of the many accounts I've read. And that's No Sh*t. " - Tom 'Papa' Ray a.k.a. "The Soul Selector," KDHX- 88.1FM, St. Louis
"Ron Levy has been a participant and contributor to an enormous body of music, from his earliest sideman work with Albert & B.B. King, Roomful of Blues, and as a solo artist, producer & record label owner. Levy is also one of the very few artists who made the transition from Blues to Soul-Jazz music and recorded with the likes of Freddie Hubbard, Melvin Sparks, David T. Walker, Idris Muhammad and other Soul-Jazz originators/inventors. All of these historical facts will make "Tales Of A Road Dog" a must read for me, and I suspect for anyone who has followed roots music over the last five decades. Bring it on Ron!" - Bob Putignano www.SoundsofBlue.com, President of the NY Blues Society and frequent contributor to Goldmine and many musical journals and magazines.
"It's fun, informative, and perhaps most importantly, a historical document. Ron Levy fills a gap that is so often missed by 'Blues scholars' in that he offers the musician's perspective, and in doing so eradicates the artificial and arbitrary pigeonholes that so often 'define' musical styles. A truly delightful pot-pourri of musical life."
- Just credit it to Bob Bell - people either know who I am or will just have to find out! (former manager of Roomful of Blues)
"Masterful musician...legendary producer...relentless prankster...and Plain ole Uncle Ron to my kids, he also happens to have some World Class tales to tell, all told in his unique style. He's stood side by side in the bands of 2 of the 3 KINGS of the blues, as well as in the studio producing and/or performing with a who's who of the Blues, Soul and Jazz world. And did I mention, as we say in Boston, he's a "wicked funny bastid. "Tales of a Road Dog" is an Awesome book...BUY IT!!! NOW!!! I'll wait for ya..." - Philip Pemberton, Singer - Roomful of Blues
"An amazing undertaking. Obviously, given Levy's seemingly limitless memory and boundless enthusiasm for telling these stories, he's had a blast bringing this format to life. Blues fans won't be able to put this down, or log off in this case. Tales of a Road Dog is an excellent read and hopefully will provide additional entertainment and information for readers for many years into the future, and hopefully pave the way for more web-books of the same type. The possibilities are endless."
Graham Clarke (From the UK)
Friday Blues Fix Blog
Blues Bytes
Ten Questions with Ron Levy by Graham Clarke
http://fridaybluesfix.blogspot.com/2013/03/ten-questions-with-ron-levy.html
---
Dear Friend,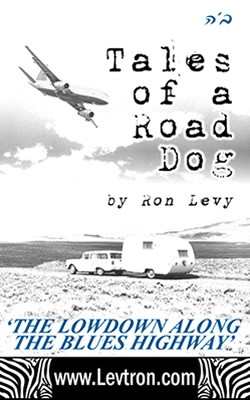 This is an exciting new reading experience we invite you all to check out. It is a first of its kind fresh format you cannot deny yourself. Master musician, arranger, producer and label owner Ron Levy has shared his unique perspective of his trailblazing musical and historical experiences, along with his humorous observations. He's continuing to forge new paths, this time in the book publishing industry.
Here are some cherry-picked short trips and rest stops along the various chapters of "Tales of a Road Dog" that will give you a good idea of what this (first-time-ever format) web-book is about.
When many of you read the full version, you'll be very likely to say, "Why didn't they include all these other stories in the teaser?"
Well, that's precisely the point. We hope you enjoy these samples and need to read and listen to more!
You'll notice there are some red highlighted words. When you click on them, a corresponding music video link will appear in your right window browser section.
If you want to continue reading, click on the left window. Close out the music link you're on before you trigger the next music link.
Included in your lifetime online web-based subscription (as long as there is an Internet) are: 26 engrossing chapters, over 1500 handpicked rare photos and over 250 music video links.This web book will be updated every six months and is available on any two of your current (and future) devices that have access to the internet, with no download or memory used!
Also, at the end of each chapter there will be a direct, dedicated email link to the author and publisher for all your comments and questions. We welcome them wholeheartedly. This is the future, NOW!
ALSO INCLUDED: RON LEVY'S NEW ALBUM "FUNKY FIESTA!" (click to download and listen while reading!)
Introduction
You may have never heard of Ron Levy , but he's one heck of a storyteller. He was 'there' and everywhere, back in the day and in person. He's someone you need and will enjoy listening to. Backing up Blues legends since 1966 with determination and much humor, as well as an appreciation for this special time in American musical history, he 'knows'. He went on to record and produce, helping to establish and reinvigorate many artists' careers, while searching and finding his own signature sound. Mr. Levy has got quite a big, full story to tell, as well as thousands of zinging one liners and colorful pranks.
These 'Tales' are more about the consistently kaleidoscopic cast of characters Levy met -- and the many crazy circumstances he found himself in -- than an autobiography of a celebrated musician/sideman, etc. It's about what he and others saw, experienced and shared with those that were there, too. Superstars like Elvis Presley, Muhammad Ali and everyday people are treated with the same deference, equal reference, respect and levity, exposing various generally unknown insights and candid moments.
"This is a 'tell some' not a 'tell all' book. I figured there's more than enough of that cynical, sordid, seedy stuff out there already; right by the checkout register at your local supermarket, show business biography sections, and on Jerry Springer or Dr. Phil, even the network news. That said, these stories are fun, unique and told with sometimes embarrassing candor, prideful irony and plenty of self-mockery. Not wanting to only victimize myself, I thought it only fair to spread it around liberally to and on all my friends, too! With all due respect I ask you: what are friends for anyway?
These are the stories I've told my friends, band-mates and family for years, after returning from my various exploits and journeys or recently jostled to memory. Many have suggested I write them down, and now I have. So I am saying this to you all right now and get this straight; this is not an autobiography, almanac, historical novel, history book, fiction, non-fiction, legal problem, music business, salacious sexy hedonistic expose of debauchery, drugs and sin book, a self-help book, a textbook, religious, mystery, thriller, political, gangster, western saga, spy, adventure, science fiction, Rock n' Roll, etc. book. Well, at least not in its entirety. (But there's plenty of all that in here, just in case!)
So, my dear Reader, If you just love good, real music, stories about many of the wonderful characters who contributed to its pursuit and spirit, travel, geography, living history, non-political social commentary, good food, sweet and bitter memories, as well as comical and heartwarming and inspiring tales, then maybe you'll enjoy this humble effort I wanted to share with all of you."
I sincerely hope you all do and G-d Bless.
---
TABLE OF CONTENTS
Cover
Introduction, instructions
Acknowledgements and Dedication
Chapters
In the Beginning
The Albert King Chronicles
The B.B. King Chronicles - Musicians & Valets
The B.B. King Chronicles Pt. II - Japan, Drugs, Carnegie Hall, New Orleans Jazz Fest w/Nina Simone, Rumble in the Jungle, Apollo Theatre

B.B. King Chronicles Pt. III - Cook County Jail, B.B. King Day, Viva Las Vegas & Elvis
The B.B. King Chronicles Pt. IV - The Wreck, Bobby Forte & Folks, Last days
The B.B. King Chronicles Pt. V - Reflections, Chicago & New York
Back Home in Boston 1977
The Luther Chronicles
The Roomful Chronicles - Personnel
The Roomful Chronicles Pt. II - Personnel cont'd, Uncle Frank, Austin Texas
The Blacktop - A - Rama Chronicles
The Rounder Chronicles - Levtron Productions, Injuns, Lowell Fulson & Sazon, Charles Brown, Champion Jack Dupree

Bullseye Blues - Eddie Hinton, The Persuasions & Jeannie Brooks
Albert & Little Jimmy King, Crosstown Recorders, Reverb, Rodney King Riots in L.A.

Tone-Cool, Memphis Pt. II, Albert King, Charles & Bonnie, Soul Music, SRV
Albert's & Pop's Funerals
Mo' New Orleans, Memphis and Charles
South Central, Memphis, 'Poppa' Willie Mitchell, Zim Zam Zoom
Bye to Bullseye, The Twin Cities and Cannonball
Bewitching Salem & Beverly, Ron Levy's Wild Kingdom, Senor Jose
Casing St. Louis
Brasil Tour
RL's Wild Kingdom Rides Nationwide
California - Spank!, Denson, Green Eyed Soul
Breakdown of CDs
Epilogue
New album FREE download: "Funky Fiesta!"
Photo Gallery
Video Gallery


From CHAPTER 4 -- The B.B. King Chronicles Pt. II - Japan, Drugs, Carnegie Hall, New Orleans Jazz Fest w/Nina Simone, Rumble in the Jungle, Apollo Theatre
...I can't remember B.B. ever having a bad night. I never saw B.B. fail to steal the show. The heavier the competition, the deeper he went, every single time. To perform in Africa, the land of his ancestors, at this stadium event before an 80,000-plus crazed, hot, sweaty, dancing and bouncing heads with soulfully pained hearts, must have had a very special personal significance for B.B., as it had for us all. We all realized this was not just another gig. It was history, good history. We were all very proud to be a part of it. As far as the set went, we performed B.B.'s most famous hits. I have to say, this was probably the first time this crowd ever heard of B.B. King but, as usual, he left them wanting more, as well as an indelible memory of his own sincere personal passion and deep felt Blues. He definitely connected with them like the beloved king he is. James Brown, however, totally ruled. Ultimately, this crowd was all about the 'funk' and dancing. James pretended he was back in Augusta but with an African twist. B.B. hired James' drummer "Jabo" not long after. I have to say, as much as I dug Jabo, Sonny was always The Man. He was the best for B.B. in terms of music, loyalty and leading a group that felt like close family.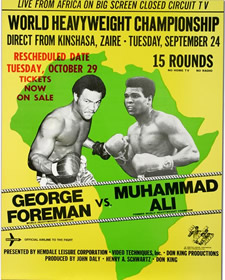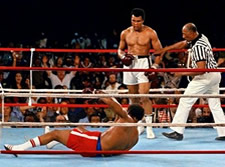 After three hot, unbelievably oppressive humid nights of jam-packed concerts featuring The Sisters Sledge, Bill Withers, The Crusaders, The Fania All-Stars, James Brown, B.B. King, The Spinners and others, the heavyweight main event was on tap. There must've been over 100,000 sweat-soaked souls there at the newly finished soccer stadium that night. 99.9% were for Ali. For awhile, Foreman manhandled Ali severely and punished him unmercifully. People were in tears as Ali was rope-a-doping while being beaten to a 'pulp-ish' purple. I forget which round it was, but like the once fabled phoenix, Ali resurrected himself and the 100,000 plus crowd chanted in unison, "Ali, Ali Boom by-yay". I still don't know what that means, but it sent cold chills and shivers throughout my body (still does even today) on this steamy 100 degree, one zillion percent humid night in Zaire. Foreman was punched out! He couldn't even raise his arms in defense as Ali jabbed and blabbed, wobbled and weaved, bounced and trounced, mocked and cajoled at will and picked Foreman apart like a Southern Sabbath Sunday fried chicken, and won by a knockout in the 8th. It was a truly incredible one-time historical event!

From CHAPTER 9 -- The Luther Chronicles
...Once, while returning from a real party-type gig, halfway home the proverbial flashing red lights began following us and commanded we pull over. After the trooper asked for June's license and registration, Luther, with a huge grin, candidly inquired, "Ossifer, was I sweavin'?" Interestingly enough, I can't ever remember an instance where he was unable to talk or charm his way out of getting a ticket or leaving the cop chuckling, too. His lines that always seemed to work best were, "Yes sir, my name is Luther 'Guitar Junior' Johnson. Here's my license papers. I used to play with Muddy Waters. Didn't you see me in the "Blues Brothers" movie? I was great, everybody loved it. I'm a Bluesman and a Grammy winner too! I promise I won't never be sweavin' no mo'."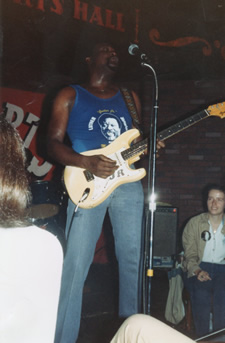 Luther and I had a nice little four-piece combo. He played a beat up old Stratocaster and was a great rhythm guitarist, as well as a solid soloist. Not enough value is placed, in my humble opinion, on the virtues of great rhythm guitar playing. When it's done right, it can drive a band as solidly as rockin' drums and a pulsating bass. Then add the glue of an organ to fill in the cracks and passionate soulful vocals and all together you've really got something. And we did. I had purchased a small portable Korg organ made in Japan, one of the first ones in the States, a few years before. For its weight at eighteen pounds, it packed a pretty good punch, simulated a 400-pound Hammond pretty good and was a lot easier to move around. I played some rollicking Boogie piano a la Pete Johnson on an album we recorded, which also featured the Roomful Horns. I had some t-shirts made up for Luther that I sold off stage for some extra cash. They were blue wife beaters with white and gold writing, with Luther's mug on them, featuring his gold front tooth. People loved them...

From CHAPTER 12 -- The Blacktop - A - Rama Chronicles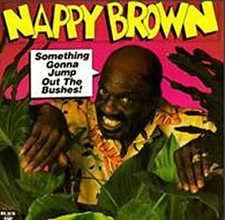 ...Napoleon "Nappy" Brown was an incredibly talented singer and showman who had major hits on Savoy Records going back to the early fifties. "Little By Little" was one, and his original version of "The Night Time is the Right Time" was copied almost note for note by Ray Charles. He possessed four or five unique and distinct separate singing voices that he'd utilize to full advantage at certain points in each song. It sometimes sounded like there were two or three different singers on the track. He also had a very unique gimmick of adding a "la" to the end of a lyric, as in "Flamingo-la." I don't know how he reckoned where and when to do it, but it always got your attention, and pleasingly so. I rewrote a supposedly comical tune for Nappy called "Something's Gonna Jump Out the Bushes and Grab You," which became the title track for his album and inspired the cover. Nappy and I were thinking about "the jungle days of old," as was Lowman Pauling of the 5 Royales, I most likely expect. He wrote the original version; our version was quite different, funkier, more modern. Lowman Pauling was a genius, writer, guitarist and leader of the 5 Royales, one of the most influential singing groups of the '50s. Nappy, Hammond and I were huge fans (along with James Brown, Otis Redding and many others). Classically, some PC people didn't hear the inherent jungle humor in it and deemed it "an open endorsement and celebration for mugging and rape!" I can honestly say that throughout the entire process of writing and arranging the tune, rehearsing, recording and mixing, then designing the artwork, that scenario or concept never entered any of our minds. It is said "beauty is in the eye of the beholder." I guess ugliness is, too!
Nappy loved rum and Cokes, as did I. Several times we got tore up together on our off nights. Once, we got lost somewhere in "the bricks," the rough New Orleans projects. They were called the bricks because most of the homes in New Orleans were made of wood, while these were made of unnatural all-yellow bricks. They were very plain, square and industrial, in contrast to the colorful and shapely characteristics of the homes in New Orleans, no matter how modest or extravagant. As we were approached by some deadly looking local gang-bangers, Nappy happily threw me under the bus, saying, "This white boy has got me drunk, we're lost. I've been kidnapped! Save me from this crazy man, he's got a gun! (I did, and not a coin changer, this time.) How do we get out of here? Where are all the good black folks at?" Thankfully it worked and they let us pass unscathed, otherwise we could've been carjacked and walking home, maybe, if we were lucky. I almost considered dropping him off right there at the next corner afterwards, however.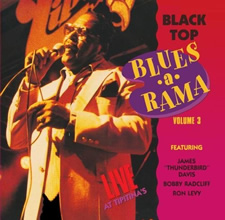 Nappy once tried to do the "old school psych out ploy" on Thunderbird during a Blues-A-Rama show at Tips. Nappy saw him as a competitive rival and wanted to kick his ass that night or, even better yet, make him give up before. T-Bird was ready to go home and quit before the show after listening to Nappy's diatribe. He was on the verge of tears. Luckily, Hambone and Marian coaxed him back to normal; he wailed and did us all proud. I also gave him some pretty good support on that 'ol' peeannna' and Hammond organ, especially being privy to this situation. Earl King wrote and played some beautiful guitar, too, on James' "A Case of Love."...

From CHAPTER 18 -- Mo' New Orleans, Memphis and Charles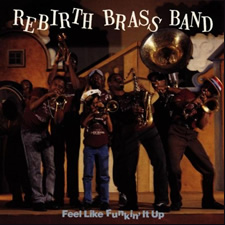 ...New Orleans' own Rebirth Brass Band was brought to my attention by my pal Saz. They were a younger, funkier version of the Dirty Dozen Brass Band and had tons of energy. They were kids and were a blast to work with. We recorded a few tunes at a very low budget and they really came through with some decent-selling albums and even had a regional hit with "Do Whatcha Wanna." The Frazier brothers Phillip (sousaphone) and Keith (drums) held the rock solid rhythm down while Kermit Ruffins shined out front on trumpet and vocals.
As soon as the Frasiers started a groove, it seemed like the whole club started to move to their beat like a rhythmic earthquake. Kermit patterned himself almost like a modern-day Louis Armstrong, his and many New Orleans' trumpet player's idol. He had a very charismatic smile that made you think he knew a happy secret that he was ready to share just with you. He had a unique voice to which he added a Satchmo growl just at the right time, every time, it seemed. The rest of the cats would chant very much in a Mardi Gras Indian style that was infectious and always inviting to the crowd to join in.
They would blast giant horn chords and also improvise intricate counterpoints with and against each other, all while the bass drum and snare would play that snappy second-line syncopated beat. They were sometimes a little rough around the edges but their youthful exuberance more than made up for it. Their local gigs when they first started out were neighborhood community events where everyone in the audience participated. "Live at the Glasshouse" clearly demonstrates what I'm talking about.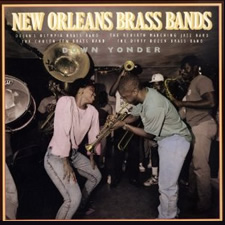 At first, I had put a compilation of three or four brass bands together for the Modern Masters Series on Rounder and Rebirth got a great response. We put a picture of Kermit on the cover from a live gig where he was aiming his trumpet less than a foot or so away from a pretty girl dancing. It was kind of a bold photograph because he was aiming his horn right at her shaking pelvic area. It was almost as if his notes were traveling deep inside of her soul. Back in Cambridge, we thought this was a great shot that added a little bit of funky sex appeal to the staid traditional image of brass bands in most people's minds. Well, it was a little too much. Kermit called me in a panic saying the girl in the photo was a girl he'd promised his current girlfriend he'd never see again and hadn't seen for awhile. Now, every CD cover was living proof of his infidelity betraying all his sincere soft pillow promises. They were plastered all over New Orleans and the world for all to see...

From CHAPTER 19 -- South Central, Memphis, 'Poppa' Willie Mitchell, Zim Zam Zoom
...The first drummer made the mistake of asking Pops when we were going to be through, as in what time. Pops vehemently scolded him telling him, "You through now, G-d damnit! We're here to make a damn record. You want to go home and lay up or whatever the fu*k else you want to do. You can go now, you're through now!" The drummer: "I'm sorry, Mr. Mitchell, I just need to tell my old lady what time to expect me home, sir." Willie, now almost insane: "Don't give me that 'sir' sh*t. Get the fu*k out of my house right now and take all your sh*t out, too! I don't ever want to see you in this neighborhood again. Floyd, help this sorry ass drummer get his sh*t out of here. William, call Steve Potts and tell him to get his ass over here, right now!"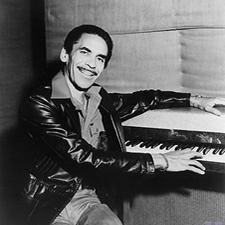 Now moments later, as cool as a cucumber and in great relaxed humor, laughing, Willie confided in me. "You believe that sh*t? I tried to give this SOB a break, a nice gig, and before we even start, he wants to know when he can go home. When you're making a record, you've got to be committed 1000%. Everything else is number two until you're done and it's all the way finished." Pops used to say that in any good breakfast the hog was totally committed because he had to give up a part of himself forever; the chicken not so much." (I have to say, the egg itself was pretty committed, though.) "What time will we be through? How in the hell am I supposed to know? We're done when we're done, G-d damnit. Now come here, Rown, let me show you this chord on the peeanna I want you to try. You like it? Yeh, it's a good one."
Pops was right and, besides that, even better, no one was uptight after this tirade. I was sure they'd seen these many times before, but everyone was glad this slacker was gone and someone more committed was taking his place. Within two or three minutes everyone was laughing and siding with Pops and anxious to learn their parts to perfection. He really took the time to get the best combination and interplay between the bass and the kick drum, and then added the rest of the kit. "Play it like you're drunk! Lazy drunk." was his mantra. He wanted that slippery soul feel and not any stiff mechanical execution of the precise patterns or notes. He talked about how we were creating a beautiful painting like the Mona Lisa, and there was only one smile and that was the vocals and the main focus. Someone else would be the frame, another the background, another the dress, another the hair, the eyes, etc. Each position had a role to play and each position had a responsibility to support each others' roles and make them all fit together. It was a true team concept and he was our head coach who'd won many championships...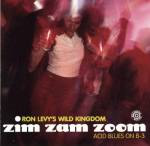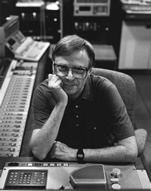 ...Back up north in New Jersey, circa 1996, my good record-collecting buddy, writer, DJ and legendary producer Bob Porter, was called in to help me on a solo instrumental project entitled "Zim Zam Zoom" on Bullseye. Bob produced and helped create some of my favorite Soul-Jazz albums of all time. His credits of artists he produced are like a "who's who" of Jazz. A damn good percentage of his projects were hits and in every jukebox in all the urban centers and beyond. They were rediscovered some twenty years later – and treasured in the hippest clubs in London, Paris and Tokyo – and called Acid Jazz. These grooves inspired many rappers and musicians and were the foundation for this new Acid-Soul-Jazz, which became known as Groove and Jam Bands. Medeski, Martin and Wood, Us3, Greyboy Allstars, Karl Denson, Soulive, Brooklyn Funk Essentials, DJ Logic as well as many Hip-Hop DJs are some 'sample' examples. Two of the pioneers of Soul Jazz were Horace Silver and Cannonball Adderley. I wrote a tune called "Silver Cannonball" in homage to their influence on me musically. I'm hoping Porter will take some time off of DJ'ing at WBGO, to write a book about those days with Prestige and Rudy Van Gelder. A discography of these two giants would take several volumes. I think Rudy recorded 80% of all the Jazz records ever made. He was the chief engineer for Blue Note Records, Prestige, Verve and many others. He definitely recorded all the greatest Jazz artists of the last fifty years and 90% of my favorite Jazz albums, and yours, too!
I was a little intimidated working with these legends. They were both very New York and seriously hardcore. There was no funny business going on in Rudy's studio, none at all. It was summer and I was standing by the door outside smoking a cigarette while talking to some of the musicians inside. That was quickly snuffed out by Rudy. There was to be no socializing or smoking. He had everything completely set up and ready to go as soon as we walked in 'his' door. He charged by the hour normally, but Bob had gotten us a special package rate. Rudy made sure my advance check cleared before we began anything. That's how it is in New York. Too many bad experiences of the past make one execute an ironclad policy for today. It's business, and time is money.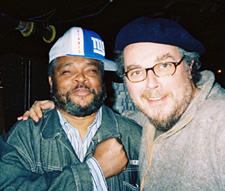 Melvin Sparks, an old buddy and friend of many mutual friends, was setup across from me. I wanted him to be closer. He seemed too far away for my signals. Plus, Melvin being Melvin, it was somewhat of a security blanket for me. He's one of the nicest, warmest, smartest, funniest, most talented people I've ever met. I needed him by my side here. Along on bass was Stanley Banks (George Benson's bassist). The legendary Idris Muhammad was on drums. Ralph Dorsey was on conga. These were all musicians who knew and recorded with Bob and Rudy for some thirty years. From Boston, I brought two young horn players I'd rehearsed and worked with many times. Sax Gordon was given his nickname by me when we recorded Luther Johnson's projects years before. Ray Greene was an extremely talented singer and trombonist. Both great guys who really stole the show during this recording. I wrote a song that was to become a fan favorite called "Sons of Abraham." In the Old Testament, Abraham was credited as being "the father of three great nations." We had each 'nation' well represented and coming together in peace and harmony and rhythm in this group (Christian, Muslim and Jewish).
Anyway, Rudy was visibly upset when I asked him to rearrange his setup and put Melvin closer beside me. Then when we rehearsed a bit and I asked Rudy to move Melvin back to where he was before, it was not good. I soon realized Rudy knew what worked best in his studio and didn't want to waste anyone's time trying things. He was incredibly meticulous in everything, even his tea time mid-afternoon break. It was always to the exact minute. The studio he designed was truly amazing. It almost seemed like a cathedral. It was also spotless, as was all the vintage pristine equipment; everything was in showroom condition. The organ was the same Hammond C-3 that was used by Jimmy Smith, Jack McDuff, Lonnie Smith, Leon Spencer Jr., Charles Earland, Larry Young and many others on all those great recordings going back to the '60s that I loved. It looked brand new and smelled like lemon Pledge. The Steinway grand piano proudly sat there like it was at Carnegie Hall. I had expressed my feelings in several interviews that, for me, playing these hallowed instruments was like having a date with Marilyn Monroe.
While doing the final mix, Bob, Rudy, Rudy's assistant and I were each assigned places to sit. There was a three-inch-wide yellow line painted on the floor that separated the engineer's areas and the artist, producer/supervisor's section. It was a boundary, the same as you see in parking lots. Bob and I were just far enough away not to be able to spy on Rudy's equipment settings but to hear well. I had casually slipped in behind Rudy, trying to see what he was doing, to learn from him while he was mixing. He made a few moves and then looked over to 'our' section and disturbingly said, "Where the hell is he now?" Standing behind him and startling him, I calmly said, "I'm right here, Rudy, it sounds great!" He flipped around and scolded me to get back to my side and never cross that line again!
Another time toward the end of the mixing session, we were somewhat divided about some mixing decision, but finally all agreed. "Now, I don't want you calling me fifteen minutes before midnight on Christmas Eve asking me to change this. We've changed it three times already and this is the best one, agreed?" I started to shrug okay and began to chuckle. "Rudy, someone actually called you then to change something?" He then laughed and slyly admitted, "You think I'm like this all the time normally? I was never like this. It's this damn business that's made what I'm like today." We all had a good laugh and made a pretty good damn record that I'll always be proud of. As a side note: Rudy is a birder. On Plum Island, near where I lived at the time, there is a famous wild bird sanctuary known to birders around the world. A few months later, I met him there with his birding companion and treated them to a New England 'lobstah' roll afterwards. I aggravated him somewhat then, too. I wasn't quiet enough and scared some birds away...Oh well, sorry Mr. RVG, sir.
---
"TALES of a ROAD DOG" - 'The Lowdown Along the Blues Highway' by Ron Levy
Traditional e-Book version - $19.99 Delivery in minutes, faster than any pizza!

26 Chapters of engrossing, humorous and historical stories
50 image Photo Gallery
Free Download of Ron Levy's newest critically acclaimed album, "Funky Fiesta!"
Accessible for all 'traditional' e-Book readers from all e-Book stores etc.
Click Here To Order E-Book Version For Kindle!
Advanced De-luxe web-book version -
$49.99
Lifetime subscription with updates!
26 Chapters of engrossing, humorous and historical stories - and more to be added on!
1500+ Photo Gallery - and more to be added on!
250+ - embedded music video links and a continuous playlist - and more to be added on!
Free Download of Ron Levy's newest critically acclaimed album "Funky Fiesta!" - and more albums to be added!
Direct email links to the author for comments & questions after each chapter
Accessible for all devices (known now, or in the future) that access the internet w/o using memory.
Click Here To Order De-luxe Web-Book Version!