CHAPTER 1 PREVIEW
Although I hardly realized it at the time, Boston, Massachusetts, in the middle 1960's was an incredible place to grow up; I was routinely exposed to some of the greatest musicians in the world! My friends and I were able to satisfy our hunger for music at every turn. On Sunday afternoons, after the NY Giants game on TV, for a mere $5 we would go downtown on the MTA's Greenline trolley car from Brookline for 25 cents each way. We'd then proceed to Signor Pizza to grab a slice and a Coke for $1. Next to Signor Pizza, Billy "Wilson" Jacobs -- a classmate and aspiring drummer -- and I would saunter downstairs to The Jazz Workshop's Sunday matinee. We'd sit as close as possible to the bandstand, order the required minimum order of a Coke, shyly admire the beautiful waitresses and soak up the likes of Art Blakey and the Jazz Messengers, Lee Morgan, George Benson and Lonnie Smith, Horace Silver's Quintet, The John Coltrane Quartet with McCoy Tyner & Elvin Jones, Wes Montgomery, Les McCann, Jimmy Smith, Kenny Burrell, Lou Rawls, Miles Davis, Herbie Hancock, Buddy Rich's Big Band, Brother Jack McDuff, Dizzy Gillespie, Sonny Rollins and many others.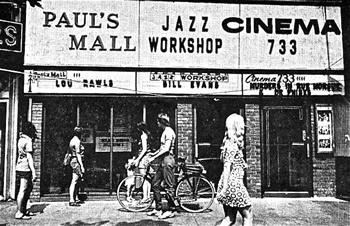 I remember sitting right in front of Coltrane one time and leaving there dizzy after a solo of his which lasted a good 45 minutes, exploring every possible conceivable and inconceivable rhythmic and harmonic possibility yet to be known to the mathematics of music. The blur of Wes Montgomery's thumb and that huge serene smile of his all while playing 200-mph and laughing most of the way, soundly resonates in my mind still. Art Blakey's drum solos sounded like ten drummers at once. Halfway through, he'd jump up from his drum set and start playing on the tables, the walls, the pipes hanging down from the ceiling, people's drink glasses, beer bottles, the chairs, the legs of chairs making a huge circle around the club and finally returning to his throne and producing sudden earthquakes of poly-rhythms, thunderstorms of meters and lightning-effect sizzling crash cymbals. Jimmy Smith would grunt ungodly noises while his greased, electric shockwaves of fast riffs and pulsing bass stirred every cell inside, cajoling that 400-pound B-3 beast into total submission. We never left the same as we came in.
---
"TALES of a ROAD DOG" - 'The Lowdown Along the Blues Highway' by Ron Levy
Traditional e-Book version - See Store For Price Delivery in minutes, faster than any pizza!

26 Chapters of engrossing, humorous and historical stories
50 image Photo Gallery
Free Download of Ron Levy's newest critically acclaimed album, "Funky Fiesta!"
Accessible for all 'traditional' e-Book readers from all e-Book stores etc.
Click Here To Order E-Book Version For Kindle!
|
Now Also Available On Barnes & Noble
Advanced De-luxe web-book version -
$19.99
Lifetime subscription with updates!
26 Chapters of engrossing, humorous and historical stories - and more to be added on!
1500+ Photo Gallery - and more to be added on!
250+ - embedded music video links and a continuous playlist - and more to be added on!
Free Download of Ron Levy's newest critically acclaimed album "Funky Fiesta!" - and more albums to be added!
Direct email links to the author for comments & questions after each chapter
Accessible for all devices (known now, or in the future) that access the internet w/o using memory.
Click Here To Order De-luxe Web-Book Version!
Print version -
$24.95
26 chapters of engrossing, humorous and historical stories in a 6" x 9" quality softcover traditional book.
100+ image photo gallery
Free download of Ron Levy's newest critically acclaimed album "Funky Fiesta!"
5-7 day delivery in the U.S.A. (longer for world-wide orders)
No purchase limit - They make great gifts!
Click Here To Order Print Version!
---