CHAPTER 18 PREVIEW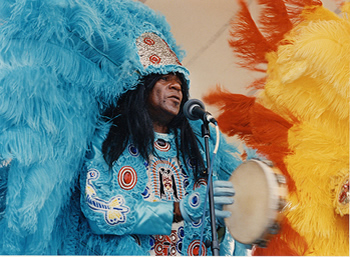 Sharing a three-family house uptown with the Scott brothers on Camp Street was a really comfortable second home to return to during my many projects and sessions in New Orleans. The Scotts had the upstairs and downstairs on one side, the Rounders the upstairs on the other. The Blacktop office was on the first floor under the Rounder apartment. It was situated in a very pleasant neighborhood close to Audubon Park, a po' boy shop and plenty of little charming boutiques and such around the corner on Magazine Street, half a block away. All the Rounder folks used it during their trips to the Crescent City. It was a nice place to entertain company and have private meetings with our artists and musicians. The Rosenthals from New York, the Cases from St. Louis and Kaz Kazanoff & family from Austin visited us there more than a few times, as well as our local friends from New Orleans.
We had contracted Mardi Gras Indian chief Monk Boudreaux to re-do and fix up our apartment. He did a fabulous job, albeit on a New Orleans type laissez faire timetable (no pun intended). I can still recall him saying, "Yeh, Rown, we done did it" anytime I asked him about a particular project that needed to be addressed and corrected. He even would cook sometimes, and he could "burn," as they say down there. It was also within walking distance to Art Neville's place (founder of The Meters and a Neville Brother), where we often hooked up to jam in his cabana, which was set up with multiple keyboards and instruments. We could play there at all hours with no complaints from the neighbors. There was a little corner bar around the corner for beer breaks. Often, we'd see neighborhood folks assembled outside whenever we stepped out for a smoke, requesting songs and spare dollars. I wish I still had copies of those tapes. We only had to stop when Mrs. Neville sent in their beautiful little daughter Arthel to announce, "Daa-addy, Mama says that's enough for now, time to come to bed. She said to hurry now." Art would give us a look, we'd smile at Arthel, then we'd finish up one more quick jam and call it a night. All the while Arthel would smile and wait for her daddy to take her hand and walk her back inside the house. It warms my heart to see her today. She's the gorgeous weekend anchor for FOX News! She was always cute, smart and well-spoken. Art and his lovely wife raised her right 'fo' sho', yeh you right!
---
"TALES of a ROAD DOG" - 'The Lowdown Along the Blues Highway' by Ron Levy
Traditional e-Book version - See Store For Price Delivery in minutes, faster than any pizza!

26 Chapters of engrossing, humorous and historical stories
50 image Photo Gallery
Free Download of Ron Levy's newest critically acclaimed album, "Funky Fiesta!"
Accessible for all 'traditional' e-Book readers from all e-Book stores etc.
Click Here To Order E-Book Version For Kindle!
|
Now Also Available On Barnes & Noble
Advanced De-luxe web-book version -
$19.99
Lifetime subscription with updates!
26 Chapters of engrossing, humorous and historical stories - and more to be added on!
1500+ Photo Gallery - and more to be added on!
250+ - embedded music video links and a continuous playlist - and more to be added on!
Free Download of Ron Levy's newest critically acclaimed album "Funky Fiesta!" - and more albums to be added!
Direct email links to the author for comments & questions after each chapter
Accessible for all devices (known now, or in the future) that access the internet w/o using memory.
Click Here To Order De-luxe Web-Book Version!
Print version -
$24.95
26 chapters of engrossing, humorous and historical stories in a 6" x 9" quality softcover traditional book.
100+ image photo gallery
Free download of Ron Levy's newest critically acclaimed album "Funky Fiesta!"
5-7 day delivery in the U.S.A. (longer for world-wide orders)
No purchase limit - They make great gifts!
Click Here To Order Print Version!
---