CHAPTER 19 PREVIEW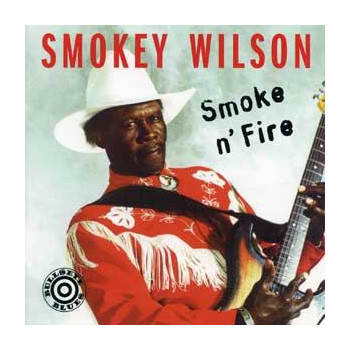 There was another artist out in L.A. who was really kicks to work with named Smokey Wilson. He was born Robert Lee Wilson but picked up a few nicknames as well. They added up to be 'Papa' Robert Lee 'Mississippi Smokey' Wilson. Writer Ted Drozdowski added; down home, gutbucket, farm raised, plank-spankin' wailer, which is apt and 100% accurate. He had a rough gravely voice that reminded everyone of Elmore James and Howlin' Wolf. His Stratocaster guitar on the full treble electric setting was intensely piercing and soulful. Each note was like a big bumblebee sting. Usually sporting a big cowboy hat and big thick glasses, Smokey dipped snuff and always had a stash of moonshine tucked away in his guitar case. Sometimes it was in a six ounce Coke bottle with a cork. He was always full of energetic hokum, jokes, laughter and positive attitude with an omnipresent toothpick in his mouth. Everyone was always blown away any time it was time for Smokey to 'go'. He was amazing and a lot of fun.
The Smokester was from Mississippi originally, and came out to L.A. in the early '70s but was still as down home country as when he first came out, and he always played that to the hilt. He ran and played a juke joint called The Pioneer Club in Watts. It was a 'for real' Blues club frequented by 'his' people -- folks who came out West, just like him. He was a former big rig truck driver who lost his leg when a family's packed station wagon entered his path suddenly from a side country access road. He swerved and crashed off the main road to prevent from crushing them all to death. They were, coincidentally, the family that owned the plantation property he grew up on. He had a prosthetic leg but, besides a slight hitch in his gait, you'd never know it. He used to hop around and duck walk like he was a teenager while he was in his early 60s. We played a few Bullseye Blues shows in L.A. and some festivals together. He was always a blast. He'd run off and dare you to keep up with him. I never got tired of playing or working with Smokey; he had enough energy to power a multitude of energizer bunnies. He's one of the last real guys who grew up in the cotton fields working brutally hard, then hung out later playin' the Blues from that day and all the other ones before. He prided himself on that. We did three dynamite albums together, plus Smokey's guest shot on Jimmy McCracklin's Blues Summit album. I'm not sure if we won any awards, but he certainly gained a wider and appreciative audience and played some festivals around the country. On the first album, Smokey and I jammed on groove we worked out pretty quickly called "Smoke and Fire." It smokes and is hot! That set the stage for what was to successfully follow and began a wonderful working relationship that I'll always cherish.
---
"TALES of a ROAD DOG" - 'The Lowdown Along the Blues Highway' by Ron Levy
Traditional e-Book version - See Store For Price Delivery in minutes, faster than any pizza!

26 Chapters of engrossing, humorous and historical stories
50 image Photo Gallery
Free Download of Ron Levy's newest critically acclaimed album, "Funky Fiesta!"
Accessible for all 'traditional' e-Book readers from all e-Book stores etc.
Click Here To Order E-Book Version For Kindle!
|
Now Also Available On Barnes & Noble
Advanced De-luxe web-book version -
$19.99
Lifetime subscription with updates!
26 Chapters of engrossing, humorous and historical stories - and more to be added on!
1500+ Photo Gallery - and more to be added on!
250+ - embedded music video links and a continuous playlist - and more to be added on!
Free Download of Ron Levy's newest critically acclaimed album "Funky Fiesta!" - and more albums to be added!
Direct email links to the author for comments & questions after each chapter
Accessible for all devices (known now, or in the future) that access the internet w/o using memory.
Click Here To Order De-luxe Web-Book Version!
Print version -
$24.95
26 chapters of engrossing, humorous and historical stories in a 6" x 9" quality softcover traditional book.
100+ image photo gallery
Free download of Ron Levy's newest critically acclaimed album "Funky Fiesta!"
5-7 day delivery in the U.S.A. (longer for world-wide orders)
No purchase limit - They make great gifts!
Click Here To Order Print Version!
---