CHAPTER 10 PREVIEW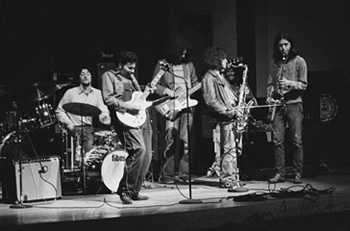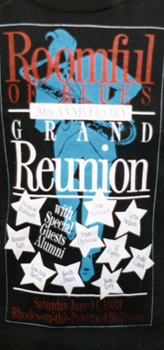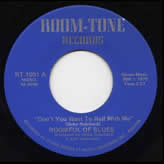 Roomful of Blues was and still is the most renowned and legitimate Blues band ever from the New England area. They were truly legendary pioneers and a spawning ground for much talent over the years, much in the same ways as their Texas cousins, "The Fabulous Thunderbirds" and Stevie Ray Vaughan, or even John Mayall from England. Back in the late 1960s, Duke Robillard on guitar and vocals lead a rockin' and rollicking swashbuckling band that accurately recreated the glory days of 1950s Blues and R&B. I first saw them while I was with B.B. on a visit back home, at Where It's At, a downstairs club near Boston University, the very same place the "5 Rats" won our first (and only) battle of the bands. They were great. Duke, sporting a Stetson gangster-type hat and playing a fat hollow body Gibson guitar, led this smooth horn-laden and boogie-piano swinging rhythm section-driving band that reminded me of all the classic T-Bone Walker, Big Joe Turner, Fats Domino and Guitar Slim records I loved. Song after song was done with compelling conviction and authenticity. They also had a professionalism and stage polish without sacrificing any soulful feeling. They recorded with R&B greats Big Joe Turner, Eddie 'Cleanhead' Vinson, Lou Rawls. Count Basie was a fan of theirs. Their first album was produced by Doc Pomus. They put out a great 45 I bought while I was a Rhythm Rocker. These cats were for real. In 2012, Roomful was honored by being elected to the Rhode Island Music Hall of Fame. In 2009 the original -- or at least most of the original -- cats got together for their 40th Reunion. This video is pretty damn close to how they sounded my first time seeing them, and that's saying something. I participated in the 20th Reunion.
When Greg Piccolo, or Pic as we used to call him and still do, called me, it reinvigorated my desire to continue to pursue my dream of playing the quality music I yearned for. At first, I thought he wanted me to fill in for just a few gigs. Years before, Duke had me do that when I played with Johnny Nicholas a few times. No, that wasn't it. Al Copley, a.k.a. Albie, their longtime pianist and original founding member whom I'd admired so many years ago, was moving to Europe to live and they needed a full-time replacement. I was their first choice, no less! It took me a nanosecond to decide. They were one of my favorite bands. I knew them all pretty well and several of the guys were my good friends.
---
"TALES of a ROAD DOG" - 'The Lowdown Along the Blues Highway' by Ron Levy
Traditional e-Book version - See Store For Price Delivery in minutes, faster than any pizza!

26 Chapters of engrossing, humorous and historical stories
50 image Photo Gallery
Free Download of Ron Levy's newest critically acclaimed album, "Funky Fiesta!"
Accessible for all 'traditional' e-Book readers from all e-Book stores etc.
Click Here To Order E-Book Version For Kindle!
|
Now Also Available On Barnes & Noble
Advanced De-luxe web-book version -
$19.99
Lifetime subscription with updates!
26 Chapters of engrossing, humorous and historical stories - and more to be added on!
1500+ Photo Gallery - and more to be added on!
250+ - embedded music video links and a continuous playlist - and more to be added on!
Free Download of Ron Levy's newest critically acclaimed album "Funky Fiesta!" - and more albums to be added!
Direct email links to the author for comments & questions after each chapter
Accessible for all devices (known now, or in the future) that access the internet w/o using memory.
Click Here To Order De-luxe Web-Book Version!
Print version -
$24.95
26 chapters of engrossing, humorous and historical stories in a 6" x 9" quality softcover traditional book.
100+ image photo gallery
Free download of Ron Levy's newest critically acclaimed album "Funky Fiesta!"
5-7 day delivery in the U.S.A. (longer for world-wide orders)
No purchase limit - They make great gifts!
Click Here To Order Print Version!
---