CHAPTER 24 PREVIEW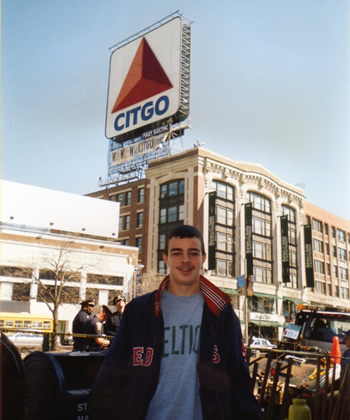 Back in the US, back in the US of A! It was great to get back home and get right back to doing our full schedule of gigs with my own band. Also, I got to do some paper routing with mein zeninkeh, my beloved son AJ, after his school day. Later, we'd grab a bite of pizza and throw the football around. We also went to a lot of Red Sox games and the Baseball and Basketball Hall of Fame. In Boston, we have a legal holiday called Patriots Day that honors Boston's participation in the American Revolution. That's the day the world famous Boston Marathon is run. The Red Sox also play a ballgame that begins at eleven in the morning! By the time the game is over, the lead runners from the Marathon pass through Kenmore Square, which is 2-3 blocks from Fenway Park. Before the game, there's the annual Jimmy Fund (for kids cancer research) breakfast, where you break bread with the players and owners of the Sox. AJ and I went to those many times. Today, AJ is going for his Masters degree in hopes of someday running a collegiate athletic program. He's been working as a training coach at several colleges the last two or three years. He also calls me every Friday afternoon to wish me a Gut Shabbos and always ends our talk with, "Love you, Abba."
While I was back home, I also spent a lot of time with my Auntie Mimi everyday. One interesting and little known fact about her was that she could whistle as good as Professor Longhair in his famous Mardi Gras tune "Big Chief." Even in her mid-90s she could hurt your ears, she whistled so loud and sharply. She'd whistle these beautiful old melodies and standards she remembered from the old Tin Pan Alley days. When she'd hit that very highest note that climaxed the melody, I could envision all the cabbies within two or three miles around slamming on their brakes in anticipation of an invisible fare calling for their attention. Dogs outside would drop their bone, cover their ears with their paws, then scurry away for cover. Ever hear the whistling sound of a bomb dropped from a B-29 bomber in a war movie? That's what I'm talking about. And her vibrato? Please. It rivaled Albert King hitting one of those stinging, piercing high notes on his guitar Lucy. She was my mother's oldest sister, who raised her, as well as my brother and me. Mim always took care of her family with much love, grace, care and patience, starting with her parents, then mine. She devoted her life to caring for them and outlived them all. She was a Saint and lived to be one hundred and one years old! I loved making her happy, talking with her and making her smile and laugh. Sometimes she'd raise her eyebrows at me, but never her voice. She never had to.
---
"TALES of a ROAD DOG" - 'The Lowdown Along the Blues Highway' by Ron Levy
Traditional e-Book version - See Store For Price Delivery in minutes, faster than any pizza!

26 Chapters of engrossing, humorous and historical stories
50 image Photo Gallery
Free Download of Ron Levy's newest critically acclaimed album, "Funky Fiesta!"
Accessible for all 'traditional' e-Book readers from all e-Book stores etc.
Click Here To Order E-Book Version For Kindle!
|
Now Also Available On Barnes & Noble
Advanced De-luxe web-book version -
$19.99
Lifetime subscription with updates!
26 Chapters of engrossing, humorous and historical stories - and more to be added on!
1500+ Photo Gallery - and more to be added on!
250+ - embedded music video links and a continuous playlist - and more to be added on!
Free Download of Ron Levy's newest critically acclaimed album "Funky Fiesta!" - and more albums to be added!
Direct email links to the author for comments & questions after each chapter
Accessible for all devices (known now, or in the future) that access the internet w/o using memory.
Click Here To Order De-luxe Web-Book Version!
Print version -
$24.95
26 chapters of engrossing, humorous and historical stories in a 6" x 9" quality softcover traditional book.
100+ image photo gallery
Free download of Ron Levy's newest critically acclaimed album "Funky Fiesta!"
5-7 day delivery in the U.S.A. (longer for world-wide orders)
No purchase limit - They make great gifts!
Click Here To Order Print Version!
---